Husqvarna Motorcycles hits the seventh all-time record in a row. In 2022 global Husqvarna sales have been 48.262 (+0.8%) the lowest increase in the last decade.
McD
 tracks new vehicles registrations across the World (over 80 countries), reporting data on calendar year. When you wish to compare data reported by us to those declared by the manufacturers, consider they usually report their "sales" (vehicles invoiced), which are usually different from "registrations", accordingly with their fiscal year split. 
Husqvarna Global Sales Track 2021
Re-born in the 2014, after the Pierer Mobility/KTM acquisition, the Swedish brand with over a century of history performed with over a double-digit speed any year until 2021.
Then, after the KTM Group acquisition of the Spanish brand Gas-Gas, an off-road specialist which competes against Husqvarna in several segments, the Husqvarna score started to slow down, probably for a less focus from the owner.
Indeed in 2022 global Husqvarna sales have been 48.262 (+0.8%) the lowest increase in the last decade.
Bad news from India, with sales in 2022 at the half of 2020, the first year of presence in this market. Not positive the data from China (-22.6%) and Latam (-17.5%).
Sales in North America increased (+13.7%) particularly in USA (+16.8%). Strong performance even in the ASEAN (+32.6%) with Vietnam (+243.2%) and Thailand (+725.0%) really strong.
Sales in Europe were positive (+9.6%) with huge increase in Bulgaria (+266%), Romania (+119%), Croatia (+52%) and Sweden (+37.2%).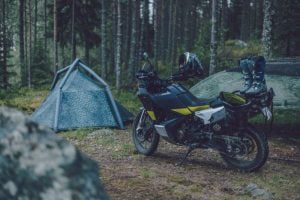 Husqvarna Heritage
Husqvarna was founded in 1689 in the small town of Huskvarna in southern Sweden, now the city of Huskvarna, Småland province. Husqvarna was originally a mechanical company, producing guns for the Swedish army. In 1903, the company entered the motorcycle industry with its first product, the Husky.
Husqvarna was acquired by Italian motorcycle company Cagiva in 1987 and became part of parent company MV Agusta Motor. A group of managers and engineers in Husqvarna were unhappy with the future under Cagiva. They founded Husaberg AG, a new motorcycle manufacturer in Sweden and later acquired by KTM AG.
In 2007, the two-wheeler division BMW Motorrad acquired Husqvarna in a deal worth €93 million. But in 2013, the Swedish motorcycle company changed hands again when Pierer Industrie AG bought all shares of the company from BMW Motorrad.
In 2013, the shares and patent rights of the Husqvarna brand were sold by Pierer Industrie AG to KTM AG, Husqvarna Motorcycle GmbH has since been established.
Husqvarna, once owned by KTM, returned to business in 2014 by presenting the Supermoto 701 locust at the EICMA show. The company currently has many products, mainly focusing on two segments of locusts and naked bikes.