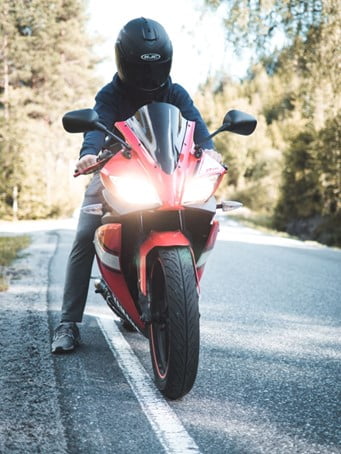 If you ride a motorcycle around Atlanta or other parts of Georgia, you should always wear a helmet. While it won't protect you from every injury, it can be instrumental in preventing more serious repercussions, including death.
 But if you get in an accident on your motorcycle, will your helmet break? Motorcycle accident lawyer Henningsen recommends looking more deeply than the superficial scratches and dents on the outside of the helmet to find the answer.
 Georgia's Motorcycle Helmet Laws
In the state of Georgia, a mandatory motorcycle helmet law was passed in 1969 and has continued to be enforced ever since then. That means anyone operating or riding a motorcycle must wear a helmet.
The helmet you wear must meet the Department of Transportation standards which are detailed in Federal Motor Vehicle Safety Standard 218. Here, you'll find how helmets are evaluated for performance. Since motorcycle helmets can significantly reduce critical and fatal injuries, it is important for everyone on a motorcycle to wear a helmet that complies. 
Tests That Evaluate Motorcycle Helmet Performance
When you operate or ride a motorcycle in Georgia, you need a DOT-compliant helmet. Helmets that are compliant must pass three performance tests. The energy absorbance test ensures that the helmet can absorb a minimum level of energy upon impact with hard, fixed objects, such as the road. 
Motorcycle helmets must also pass a penetration test. It is mounted onto a head-form and then hit with a metal striker. The striker must not make contact with the head-form surface.
A retention test checks the strength of the chin strap and other retention components. This is to determine that it can withstand force, such as the type that may occur in a motorcycle crash, and won't slip off the wearer's head.
Always be cautious about where you buy your motorcycle helmet. While there are non-authorized DOT-approved stickers, you can ensure the helmet you purchase is authentic by checking the back or inside of the helmet. You will find a DOT sticker certifying the helmet and a Snell or ANSI label. Additionally, there will be a label that states the manufacturer's name, model, size, plus the month and year the helmet was manufactured. 
How to Tell If Your Motorcycle Helmet Is Damaged in an Accident
Even in a minor motorcycle accident, your motorcycle helmet may get damaged. You may see some small dents or minimal scratching, but they likely go further than what the surface reveals. 
What you can't see are any interior issues with the helmet's protective padding. This is why it is best to dispose of a helmet after any motorcycle accident, even if it does not look broken. Helmets absorb the impact of these incidents, which affects the effectiveness it can provide in subsequent impacts. For these reasons, you should replace any motorcycle helmet that you have worn in an accident. 
Beyond accidents, if you dropped your helmet from a significant height, there's a good chance the interior padding could have sustained some damage. It's always best to err on the side of caution and get a new motorcycle helmet in these situations. This way, if you are in a serious accident, your helmet can do its best job of protecting you.