Triumph Motorcycles Global Sales are hot. Indeed, after the first nine months of the year, global sales have been 75.070 (+10.3%), projecting 2023 at the new record, around 90.000. Great contribution already arrives from Indian operations.
McD tracks new vehicles registrations across the World (over 85 countries), reporting data on calendar year. When you wish to compare data reported by us to those declared by the manufacturers, consider they usually report their "sales" (vehicles invoiced), which are usually different from "registrations", accordingly with their fiscal year split. 
Triumph Global Sales Trend
Triumph is in a great shape.
The British company in recent years have build up a solid global performance building a dedicated network, enhancing the core brand values and developing a wide product line up, expanding the engine displacement with the 660cc engine and attracting new customers.
Results are clear, with sales moving up towards a milestone of 100.000 annual sales, which can be reached in a couple of years.
This milestone will be a dream, considering that ten years ago sales were at the half and profit were disappointing.
But after a steady growth period (2012-2020) in the last three years sales are booming and this year Triumph will score the 4th all-time record in a row.
Indeed, after the first nine months of the year, global sales have been 75.070 (+10.3%), projecting 2023 at the new record, around 90.000.
While sales are growing fast in Latam (+19.5%) and in East Europe (+28.8%) and Asia – China, Japan, Taiwan, Korea –  (+7.3%), sales are negative in the ASEAN (-14.7%) and in Africa (-8.9%)
The great boost arrives from the Indian region (India, Pakistan, Bangladesh and others) thanks to the recent startup of activities in India and with sales immediately at great level, thanks to the introduction of a 400cc engine.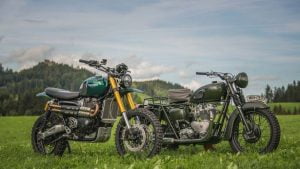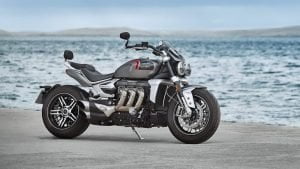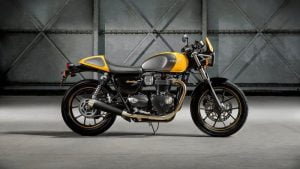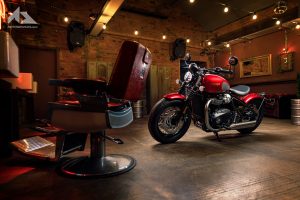 Triumph Heritage
Triumph Motorcycles Ltd is the largest British motorcycle manufacturer, established in 1983 by John Bloor after the original company Triumph Engineering went into bankrupt. The new company (initially Bonneville Coventry Ltd) continued Triumph's record of motorcycle production since 1902.
Bloor set to work assembling the new Triumph, hiring several of the group's former designers to begin work on new models.
In 1988, Bloor funded the building of a new factory at a 10-acre (40,000 m2) site in Hinckley, Leicestershire. The first Hinckley Triumph's were produced for the 1991 model year. Bloor put between £70 million and £100 million into the company between purchasing the brand and breaking even in 2000.
At the same time as production capacity increased, Bloor established a new network of export distributors. He had previously created two subsidiary companies, Triumph Deutschland GmbH and Triumph France SA. In 1994, Bloor created Triumph Motorcycles America Ltd.
On 15 March 2002, as the company was preparing to celebrate its 100th anniversary as a motorcycle maker, its main factory was destroyed by a fire which began at the rear of the facility. At the height of the blaze, over 100 firefighters were tackling the fire, which destroyed most of the manufacturing capacity. Nevertheless, the company, which by then employed more than 650 people, quickly rebuilt the facility and returned to production by September that year.
In May 2002, Triumph began construction on a new sub-assembly manufacturing facility in Chonburi, Thailand to make various components. A second factory was opened in 2006 and the ceremony was attended by Prince Andrew, Duke of York. A third factory was opened in 2007 to include high pressure die-casting and machining, and Triumph announced that they were expanding to increase capacity to over 130,000 motorcycles. Triumph Motorcycles (Thailand) Limited is a 100% UK owned company and now employs about 1000 staff.