Royal Enfield Global Sales are skyrocketing. In 2023 sales are booming and after 9 months are 0.7 million (+19.9%) projecting the entire year at the new record, first time over the 0.9 million.
McD tracks new vehicles registrations across the World (over 85 countries), reporting data on calendar year. When you wish to compare data reported by us to those declared by the manufacturers, consider they usually report their "sales" (vehicles invoiced), which are usually different from "registrations", accordingly with their fiscal year split. 
Global Registrations Data Trend
Royal Enfield is the most global-acting Indian manufacturer and the only one active both in North America and Europe, even with remarkable performance.
The Indian based company revamped of of the oldest motorcycles brand in the World, originally born in the UK and in the last decade grew up impressively in all continents.
Last decade TVS Motor global sales performance is really impressive. A first step was between 2012 and 2018, with a series of seven years of consecutives record, booming from 0.1 to 0.75 million sales.
When Indian market felt in 2019 and when covid hit the markets in 2020, Royal Enfield lost sharply declining at 0.5 million sales in 2020.
Since 2021 a recovery is in place. Already in 2022 the company established the all-time sales record, near the 0.8 million sales
In 2023 sales are booming and after 9 months are 0.7 million (+19.9%) projecting the entire year at the new record, first time over the 0.9 million.
Sales are booming (+21.3%) in the Indian region (India, Pakistan, Bangladesh and others), in North America (+22.8%) in LATAM (+20.5%) and in East Europe (+14.3%). 
TVS actually ranks as 11th 2-wheeler manufacturer in the world. However, considering only the motorcycles segment, Royal Enfield stands in 7th place.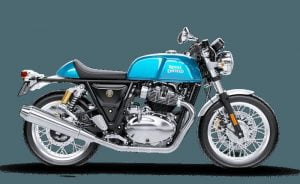 Royal Enfield Heritage 
Royal Enfield is a company 100% controlled by the Indian conglomerate Eicher. Located in Chennai (India) is among the largest motorcycles company worldwide. The history of this company started at the at the beginning of the 20th century. Indeed, in 1901 Royal Enfield brought to the market its first motorcycles.
In 1949 K. R. Sundaram Iyer launches Madras Motors to import British motorcycles within India's territory. Besides Norton and Matchless machines, he sells Royal Enfields.
In 1952 Madras Motors receives an order from the Indian Army for 800 350cc Bullets. At the beginning of 1953, the shipping arrived in India and they proved to be a great success because of their hardy and easy to maintain aspects. Johnny Brittain won the prestigious Scottish Six Days Trial on his 350cc Bullet, "HNP 331".
In 1955 the Redditch company became partner of Madras Motors and they founded 'Enfield India'. They engaged in the construction of a purpose-built factory at Tiruvottiyur, near Madras.
In 1956 the Tiruvottiyur factory opened and Bullets began to be manufactured under license. The early production was based on machines that came from England in sets subsequently assembled in Madras. A total of 163 Bullets were built by the end of that year.
In 1964 the iconic Continental GT café racer was launched to great acclaim when a team of photojournalists ride it from John 'o Groats to Lands End in under 24 hours, by way of 7 laps at the Silverstone circuit. The GT featured a racing petrol tank, clip-on handlebars, rear sets, a humped race seat, rev counter and a swept-back exhaust.
Production of motorcycles ceased in 1970 and the original Redditch, Worcestershire-based company was dissolved in 1971.
Enfield of India continued producing the 'Bullet', as "Enfield Bullet", due to dispute around the legitimacy of using the "Royal" nameplate. Finally, in the 1999 a lawsuit over the use of 'Royal', brought by trademark owner David Holder, was judged in favour of Enfield of India. The brand "Royal Enfield" was back in the market with the Bullet 350 and the new models designed and produced in India, including Cafe Racers, Cruisers, Retros and Adventure Tourers.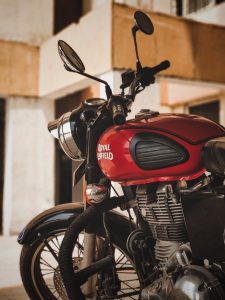 In 1977, Royal Enfield was back at home because of Indian companies export of the 350cc Bullet to the UK and Europe. Sales grew rapidly as the bikes developed, followed by classic British motorcycle enthusiasts.
In 1994, the Eicher Group acquired Enfield India Limited. The company was renamed Royal Enfield Motors Limited.
In 2013 Royal Enfield commenced to manufacture at its second facility at Oragadam, Tamil Nadu. With increased capacity, the state-of-art factory will be the nucleus of the company's global ambitions in the future.
In 2014, Royal Enfield introduced the possibility of a new retail experience by opening the first-of-its-kind exclusive gear store at Khan Market, New Delhi.
In 2015, Royal Enfield set up its first direct distribution subsidiary outside India, in North America. Royal Enfield's North American headquarters are located in Milwaukee, Wisconsin. Actually they see nearly over 2.000 units per year.
In 2016, Royal Enfield launched the Himalayan. With the all-new LS410 engine and terrain-tested suspension, it was promising the ride of a lifetime on all roads and no roads.
In 2017, Royal Enfield moved into its fully operational Technology Centre in UK at Bruntingthorpe Proving Ground, Leicester and started to produce from its third manufacturing facility at Vallam, near Chennai.