Husqvarna missed to hit in 2021 the new record, breaking a series lasting 8 years. Global sales in 2021 were 48.385, down 1.6%. Difficulties in West Europe penalized a performance pushed up by huge scores in China and in Latin America.
McD
 tracks new vehicles registrations across the World (over 80 countries), reporting data on calendar year. When you wish to compare data reported by us to those declared by the manufacturers, consider they usually report their "sales" (vehicles invoiced), which are usually different from "registrations", accordingly with their fiscal year split. 
Husqvarna Global Sales Track 2021
Re-born in the 2014, after the Pierer Mobility/KTM acquisition, the Swedish brand with over a century of history is growing up healthy and robust and the spread of Covid19, just enhanced the brand opportunities, having focused the demand on enduro and off-road two-wheelers.
The main challenge to achieve in 2021 a new record was represented by the recent KTM Group acquisition of the Spanish brand Gas-Gas, which switched over it focus and efforts. However, at the end of a challenging year, Husqvarna global sales in 2021 were 48.385, down 1.6% from the previous year and breaking a string of 8 consecutive all-times records.
The skyrocketing sales in China (+119%) and in Latin America (+89.5%), with Argentina up 341%, Ecuador at +89.8% and Colombia at +266.5% which rewarded Husqvarna ad the best performer brand at regional level, has not been enough for the manufacturer.
Sales struggled in other regions, like the Pacific Area (-32.7%), in North America and in Europe (-7.3%), while grew up in Europe East (+28.3%), in ASEAN (+90.4%).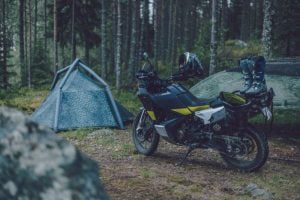 Husqvarna Heritage
Husqvarna was founded in 1689 in the small town of Huskvarna in southern Sweden, now the city of Huskvarna, Småland province. Husqvarna was originally a mechanical company, producing guns for the Swedish army. In 1903, the company entered the motorcycle industry with its first product, the Husky.
Husqvarna was acquired by Italian motorcycle company Cagiva in 1987 and became part of parent company MV Agusta Motor. A group of managers and engineers in Husqvarna were unhappy with the future under Cagiva. They founded Husaberg AG, a new motorcycle manufacturer in Sweden and later acquired by KTM AG.
In 2007, the two-wheeler division BMW Motorrad acquired Husqvarna in a deal worth €93 million. But in 2013, the Swedish motorcycle company changed hands again when Pierer Industrie AG bought all shares of the company from BMW Motorrad.
In 2013, the shares and patent rights of the Husqvarna brand were sold by Pierer Industrie AG to KTM AG, Husqvarna Motorcycle GmbH has since been established.
Husqvarna, once owned by KTM, returned to business in 2014 by presenting the Supermoto 701 locust at the EICMA show. The company currently has many products, mainly focusing on two segments of locusts and nakedbikes.