Kawasaki Global Sales in 2021 have not recovered after the previous year 25% lost. are recovering. Global sales have been flat from the previous year at 564.000, while all other Japanese manufacturers have recovered. Sales boomed in China, but fell down in Europe.
McD tracks new vehicles registrations across the World (over 80 countries), reporting data on calendar year. When you wish to compare data reported by us to those declared by the manufacturers, consider they usually report their "sales" (vehicles invoiced), which are usually different from "registrations", accordingly with their fiscal year split. 
Kawasaki Global Sales Trend 2021
Differently from the other Japanese manufacturers, in the last decade Kawasaki reported a growing trend, which allowed to hit the milestone of half a million sales (in 2015 for the first time) and then consolidate the results.
Differently from the others, Kawasaki is specialized in motorcycles (not producing scooters or moped), with few ATVs produced in the sport segment. In general, Kawasaki is specialized in the sporty segments, while the partnership with Bajaj, which allow to sell the entry level 100-150 CT models in Philippines is a key reason for recent volumes growth.
Just before pandemic arrival, Kawasaki hit the All Time record sales in the 2019, with 685.000 global registrations.
Covid19 hit heavily the manufacturer, due to the high exposure in the ASEAN region and sales fell down 25% in the 2020.
In 2021, Kawasaki was not able to react and the global sales have been flat from the previous year at 564.000, while all other Japanese manufacturers have recovered. 
Sales speed up in China (+54.7%), in the Indian Subcontinent (+50.5%) and in Latin America (+11.4%), but these performance just balanced the lost reported in Europe (-14.2%).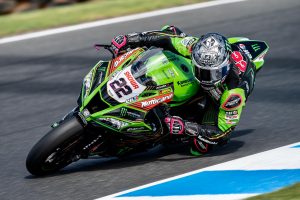 Kawasaki heritage
Kawasaki Motorcycles is a division of Kawasaki Heavy Industries, a firm born in the 1878 in a shipyard. Since they merged with Meguro in 1963 the firm started building high-performance motorcycles and nowadays they are active in the aerospace, industrial equipment, automotive (rail, air, marine sectors), shipment and  and energy industry as well.
The motorbikes made by Kawasaki are well known all over the World for their green colored sports bikes, they are now an iconic brand with a long lasting tradition of exceptional bikes.
They have producing facilities in Japan, USA, Philippines, India, Indonesia, Bangladesh and Thailand.