Vietnam Motorcycles Market is falling down hit by covid restrictions. In 2021 sales have been 2.8 million (-4.7%), the lowest level in 15 years and far 0.7 million from the record hit in 2018. All traditional manufacturers are losing volumes, while electric manufacturers are fast growing.
Motorcycles Market Trend in 2021
The Vietnamese 2-Wheeler market has been heavily hit by the direct and indirect effect of the pandemic and in the last two years dropped down at the lowest level in a decade.
Already in 2020 sales declined sharply losing in double digit and landing below the 3 million, first time in a decade.
In 2021 the market was recovering slowly before to fall down in Q3 and Q4 ending the year with an additional lost.
Indeed, 2021 sales have been 2.8 million (-4.7%), the lowest level in 15 years and far 0.7 million from the record hit in 2018.
The market is dominated by Honda with over 75% of market share. In 2021 Honda lost 6.8%. The second is Yamaha (-9.7%) while a group of new manufacturers, producing electric scooters are fast growing behind: Vinfast, Pega, Yadea and Dibao gained share in the last couple of years and represent a threat to Honda dominion for the next decade.
After China, Vietnam is actually the second largest electric vehicles market worldwide, with the segment representing in 2021 the 10% of the total industry (it was 2.9% in 2018) and is rapidly growing.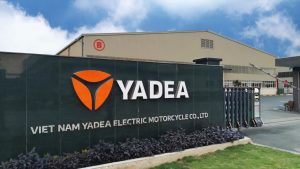 Environment and evolution
Unique in the ASEAN region, the Vietnamese two-wheeler market already started the electrification transaction, following the pathway shown by the Chinese market.
Dominated by Japanese manufacturers which have colonized the country creating a huge hub for domestic and export with over 3 million annual sales, in the last five years several new local venture started up solicited by government subsidies and focused on electric mopeds or scooters.
They gained terrain and power with the landing of Chinese giant Yadea (2019) aggressively targeting the students and first bike purchaser in general while directly attaching the establishment, even with comparative advertising.
Finally, in order to support environmentally-friendly vehicles, the government issued Decree No.57/2020/ND-CP, providing new regulations on import duties on automotive components and applied from January 1 this year.
As consequence, all automotive parts imported into Vietnam for use in domestic assembly/manufacturing (including input material imported for use in the domestic production of automotive components) are to be exempt from import duties provided that such items are not also available from domestic suppliers. In order to qualify for this entitlement, imported goods must not have been merely assembled without having undergone a manufacturing process prior to their import. 
Actually the locally available production for electric two wheeler already exceed the 1 million per year, while there is not yet demand for such a volume although the EV segment is growing at a +50% pace.