Yadea confirms to be the Global Leader in the e-scooter market with a roaring 2021 start. In the first half, e-scooter sales have been 3.07 million, up an amazing 36.5% vs the correspondent period in 2020, or +106% vs the 2019. Although operating in over 80 nations, 98% of sales were done in China.
Yadea Global e-scooters sales
Yadea is the global largest electric two wheeler firm and is one of the fastest growing.
Sales data referred to the first half 2021 confirms the outstanding growth speed although volumes are already very significant, and the Hong Kong based company consolidated its position as second motorized two-wheeler manufacturer (not including e-bikes) in the World (after Honda and ahead of Hero) and the first place among the e-scooter manufacturers.
In the first half 2021 e-scooter sales have been 3.07 million, up an amazing 36.5% vs the correspondent period in 2020, or +106% vs the 2019. Although operating in over 80 nations, 98% of sales were done in China.
While Yadea offer over 50 different e-scooter models, near half of the current year sales have been generated by a new family line, launched in February 2021, called Guanneng 2.0, which includes several models. Guanneng 2.0 family utilize the TTFAR8-level extended range system, which can effectively enhance the battery life of the electric vehicle. The battery has been replaced by Panasonic's 60V24Ah lithium battery to the third-generation graphene lead-acid battery, and the endurance has been improved.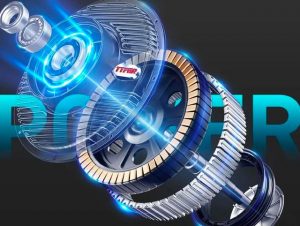 Confirming the very reactive approach to industry evolution, in these months Yadea announced a new partnership to import in China the swapping battery system developed and well test in Taiwan by the local company Gogoro.
In fact, a joint venture born by Yadea, Gogoro and Dachangjiang Group (DCJ), one of the country's biggest motorcycle makers. They will jointly invest $50 million in an operating company to develop new two-wheel vehicles with their own branding that use the Gogoro Network, including its batteries, drivetrains, controllers and other components.
Yadea Company Heritage and Assessment
Founded in 2001 and headquartered in Shanghai, Yadea Group Holdings Ltd. is one of the largest manufacturer of electric two-wheeled vehicles (electric scooters and electric bicycles), and the biggest manufacturers of e-scooter.
Over the course of 20 years, it has successfully established "Yadea" as a premium brand of electric two-wheeled vehicles in the China and in several countries worldwide.
The Group has seven Chinese production facilities located in Wuxi, Tianjin, Cixi and Qingyuan, with over 12 million vehicles production capacity (including e-bikes) and over 3,000 employees, plus a new plant, opened at the fall of 2019 in Vietnam with a current 200.000 units capacity and plan to expand at 500.000 by 2022.
Yadea also has a strong research and development team based in Shanghai and Wuxi with 340 research and development professionals with various product design background for electric two-wheeled vehicles.
In China, Yadea distributes almost in every administrative region through 3.000 distributors and over 17,000 points of sales as at 31 December 2020. The Group also had export sales to over 80 countries through its international distribution network.
The Company was listed on the Main Board of The Stock Exchange of Hong Kong Limited on 19 May 2016.
In China, Yadea is very active on line and in the 2019 was able to sell over 173.000 electric vehicles (including bicycles) through various e-commerce platforms such as Tmall, JD.com, Pinduoduo and Suning.