All Terrain Vehicles industry is in a eight-years-row record string and in the 2020 hit the milestone of over 0.7 million units globally for the very first time. Thanks to our global database we are reporting real data for ATV and RUV sales by region, country, brands and model. Polaris is the market leader.
All Terrain Vehicles (ATV +RUV) Market Dataset
MotorCyclesData.com purchase new vehicles registrations figures in over markets worldwide. Together with scooter, moped, motorcycles, we get data referring the ATVs/RUVs and are able to analyze the market starting from real data.
Searching on internet we found many website producing "market researches" on this market and guess how they are able to deliver useful information about market volume, trends, forecast, without staring from real data.
As you would read in the section regarding the market characteristics, considering these vehicles do not need to be registered in those countries were are not street-legal, registrations figures are not representing the entire market but just the most.
For instance, in the largest ATV/RUV market in the World, the USA, in 18 states these vehicles are not registered and consequently the data available represents around 80% of total USA sales.
Industry Characteristics
An all-terrain vehicle (ATV), also known as a light utility vehicle (LUV), quad bike, or simply a quad, as defined by the American National Standards Institute (ANSI); is a vehicle that travels on low-pressure tires, with a seat that is straddled by the operator, along with handlebars for steering control. As the name implies, it is designed to handle a wider variety of terrain than most other vehicles.
The rider sits on and operates these vehicles like a motorcycle, but the extra wheels give more stability at slower speeds. Although most are equipped with three or four wheels, six-wheel models exist for specialized applications. Multiple-user analogues with side-by-side seating are called RUV (Recreational utility Vehicle) or utility terrain vehicles (UTVs) or side-by-sides to distinguish the classes of vehicle.
Although it is a street-legal vehicle in several countries, it is not street-legal within most states, territories, and provinces of Australia, the United States or Canada. In countries/States were these vehicles are not street-legal, they do not need to be registered and do not need a plate.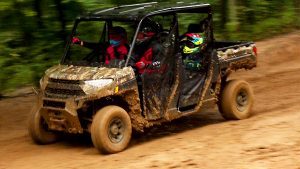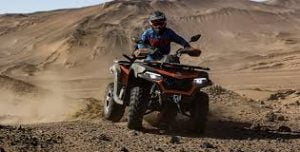 Utility task vehicles (UTV) also termed as recreational off highway vehicle (ROV) is an automobile primarily used for commercial, transportation and recreational purposes, while All-terrain vehicle (ATV) is automotive equipment designed to handle terrain than most other vehicles.
ATV and RUV Global Market Trend
The segment is growing year-after-year since the 2012 hitting in the 2020 the 8th all time record in a row. Therefore, the ATV segment is almost stable while Recreational Utility Vehicles segment is fast growing, with 2020 global sales doubling the 2012 level.
In 2020 global sales hit for the first time the 0.7 million units milestone, with North America (USA, Canada and Mexico) representing more than half of the global sales after booming 30% in the last twelve months. 
The second region for this vehicles is China, where the most of sales are in the ATV segment with local brands dominating the market. However, the segment is not growing and most of local production is for export.
In Europe the trend is negative and in the 2020 sales declined 31% and now stand at near the half of five years ago.
This vehicles are very popular in Australia, with a positive trend in Africa and in the Middle East, while India and ASEAN are marginal.
Top Sellers
Considering the geographical distribution, it is not a surprise to discover as top selling brand in the World the made-in-USA Polaris.
However, the rest of the podium is hold by a Japanese (Honda) and a Chinese (Linhai).
In the top 10 brands there are other two north American brands, Can-Am and Arctic cat, two Japanese (Kawasaki and Yamaha), and other 3 Chinese (CF Moto, Runtong Power and Hisun).
Wishing to receive data by region/country/brand/model please send us a message and we will show you our database.