Argentine Motorcycles Market has taken a new pathway although economic situation remains dire. Thanks top the Q4 recovery, the 2020 ended with a lost of 17% while a strong recovery is expected in 2021. Honda dominates the market ahead of four local manufacturers.
Hit by economic and fiscal crisis, the motorcycles industry in Argentina experienced a prolonged declining period started in 2017 and ended in September 2020, when the first year-on-year increase was reported
In this period the market has lost almost two third of volume with several historical local manufacturer fell down near bankrupt.
It seems that a new trend is now in place in the industry, although economic data are worsening.
Indeed the economic situation remained dire in Q3 and Q4 2020, after GDP collapsed in Q2. While the pace of the decline in economic activity softened in July-August from Q2, it remained considerable. Similarly, consumer confidence remained downbeat in Q3, pointing to constrained household spending.
Moreover, merchandise exports plunged, although this could be partly due to under-reporting associated with a distorted exchange rate market. Moving to Q4, increased consumer pessimism in October, coupled with a still-high number of new Covid-19 cases, which led to the extension of restrictions in some regions, bodes ill for the recovery.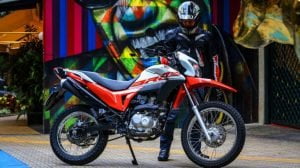 Therefore the motorcycles industry is resilient to this crisis showing in Argentina strong similarities with the rest of the World. The research for individual and affordable mobility devices is pulling up new consumer attention on the two wheeler and the actual low level of national market helps to see double digit monthly growing performance.
Following the +46% reported in September, the market remained fast in the Q3 with +23.4%, +33.7% and +21.9% respectively in October, November, December, partially reducing the annual lost.
The 2020 ended with 263.487 sales (-17.8%) and the 2021 is expected to a robust recovery, despite the protracted macroeconomic imbalances, sky-high inflation, capital controls and potentially market-unfriendly policies. To not mention the unpredictable course of the pandemic poses an additional downside risk to the outlook.
Looking at the 2020 competitive arena, the domestic market was dominated by the Japanese Honda with 60.246 sales (-19.6%), followed by the local manufacturers Motomel with 36.456 (-12.9%) and Corven with 34.028 (-6.4%).
In fourth place Gilera with 28.400 (+19.1%) ahead of Keller with 15.857 (-30.0%) and Yamaha with 15.425 (-28.3%).
Only in seventh place the oldest local brand, Zanella, with 13.138 units (-61.6%).