South Korea Motorcycles Industry is rapidly changing. Following the invasion of imported vehicles, the introduction of strong incentives for electric vehicles pushed up this segment. Domestic manufacturers share declined at 58% in 2020 and while Daelin tries to resist, Hyosung is giving up.
Korean Market heritage and evolution
The South Korean motorcycles market is relatively small and the two wheelers are not a primary mobility device in the country, with annual sales counting only 5% of the powerful automotive industry.
The presence of the huge Hyundai Group one of the reason which focused consumers attentions more on the four than on the two wheeler across the years and nowadays roads are full of cars with only few motorcycles compared with all the other top industrial countries in the World.
Korean motorcycles market grew up in the last years of last century mainly driven by the demand for food service providers or courier services for livelihood rather than daily transportation or leisure demand.
The size of the domestic motorcycle market exceeded 300,000 units and was dominated by Kia, before filing for the IMF bailout. After Kia stopped to produce these vehicles the market started a long decline decreasing to about 100,000 units in 2010 and the stabilizing at that level.
The two local producers, Daehlin and Hyosung struggles to stand up. However, while Daelin, focused on scooter segment resists and controls the domestic market, Hyosung, specialized in custom old-fashioned motorcycles – is declining and near to disappear, with just few thousand units sold in a year.
The market was stabilized by the opening to import which allow to imported brands to land with a wide offer. Chinese have conquered the low-cost moped segment, Japanese and Korean have taken the mid-size market for scooter and American and European brands are satisfying luxury models demand for motorcycles enthusiast.
Since 2018, the electric segment is growing thanks to the government's support for eco-friendly mobility, rapidly gaining market share.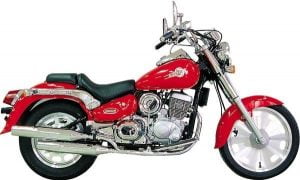 Kick-scooter boom in Seoul
As in many other metropolitan areas around the World, even the Korean capital recently has been invaded by so called "e-scooter", which must not be confused with the e-scooter. They are the kick-scooter with a max speed of 25 km per hour, without a plate and with limited circulating rules.
Kick-scooters have taken over Seoul. Starting from Gangnam station and branching out, you will see more and more E-Scooters on the streets. They have been popping up over the past few years. Companies like Beam, Lime, Xing Xing, and Kickgoing have placed their e-scooters near over 100 subway stations in Seoul. It is estimated that 17 companies are operating over 40,000 e-scooters in Seoul.
However, opinions are divided amongst the citizens of Seoul as to whether these e-scooters are good for the community. There have been many complaints from homeowners, pedestrians, and drivers in Korea. In mid 2020, Government have introduced a new regulation for these devices, now considered similar to bicycles, allowing their riding to people over 13 age.