Ducati Motor global sales have been 38.847 (-10.9%) year to date September 2020, in sharp recovery after the -17.7% and -27.1% reported respectively in Q1 and Q2, projecting a full year score near 49.000 sales, down 7.5%.
McD tracks new vehicles registrations across the World (over 80 countries), reporting data on calendar year. When you wish to compare data reported by us to those declared by the manufacturers, consider they usually report their "sales" (vehicles invoiced), which are usually different from "registrations", accordingly with their fiscal year split. 
Global Sales in the 2020
In the 2020 Global Ducati sales are hit by the fall of global demand and by the April plant shutdown, which caused a huge sales lost in the second quarter, ended down 27.1%.
However the third quarter was really positive fueled by the demand recovery in Europe, which represents near 58% of Ducati sales, and by strong growth (near 40%) in China.
Year to date September (preliminary) sales have been 38.847 (-10.9%), in sharp recovery after the -17.7% and -27.1% reported respectively in Q1 and Q2, projecting a full year score near 49.000 sales, down 7.5%.
Strong increase reported for CIS operations, with Russia sales up 45.9% and Ukraine at +41.9%. Moderated lost in North America, while India is down 61% and Japan -19.8%.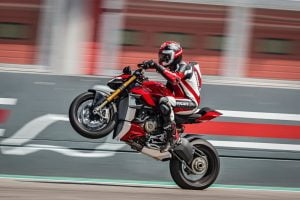 The Heritage
Ducati Motor Holding S.p.A. is the motorcycle-manufacturing division of Italian company Ducati, headquartered in Bologna, Italy. The company is owned by German automotive manufacturer Audi through its Italian subsidiary Lamborghini, which is in turn owned by the Volkswagen Group.
In 1926 Antonio Cavalieri Ducati and his three sons founded the "Società Scientifica Radio Brevetti Ducati" in Bologna to produce vacuum tubes, condensers and other radio components. In 1935 they had enough success to allow the construction of a new factory. Meanwhile, in the small Turin-based company SIATA (Italian company for technical Aviation applications), Aldo Farinelli has started developing a small thrust engine to be mounted on bicycles. This engine was called "Cucciolo" (referring to the characteristic sound of the exhaust).
In 1950, after the sale of over 200,000 Cucciolos, in collaboration with SIATA, the Ducati company finally offered its bike based on the Cucciolo. Ducati soon abandoned this name in favor of "55M" and "65TL". When the market moved on larger motorcycles, the Ducati introduced a four-stroke scooter (65TS and Cruiser). It was not a great success, and only two thousand models were made in two years before the model stopped production. In 1953, the management divided the company into two separate entities, Ducati Meccanica SpA and Ducati Elettronica, in recognition of its divergent motorcycle and electronic product lines.
In the 1960s, Ducati produced the fastest 250cc motorcycle and in the '70s began producing large-displacement V-Twin motorcycles.
In 1985 Cagiva bought the factory but kept the name "Ducati" on his motorcycles.
In 1996, Cagiva accepted the offer of the Texas Pacific group which first bought 51% and then the remaining 49% to become the sole owner of Ducati. In 1999 TPG issued an initial public offering of Ducati shares and renamed "Ducati Motor Holding SpA". TPG has sold over 65% of its shares in Ducati, leaving TPG the majority shareholder. In December 2005, Ducati returned to Italian ownership with the sale of the investment in Texas Pacific (minus one share) to Investindustrial Holdings, the investment fund of Carlo and Andrea Bonomi.
In April 2012, Audi of Volkswagen Group announced that the subsidiary Automobili Lamborghini S.p.A. acquired 100% of Ducati Motor Holding S.p.A. for 747 million euros (909 million US dollars).