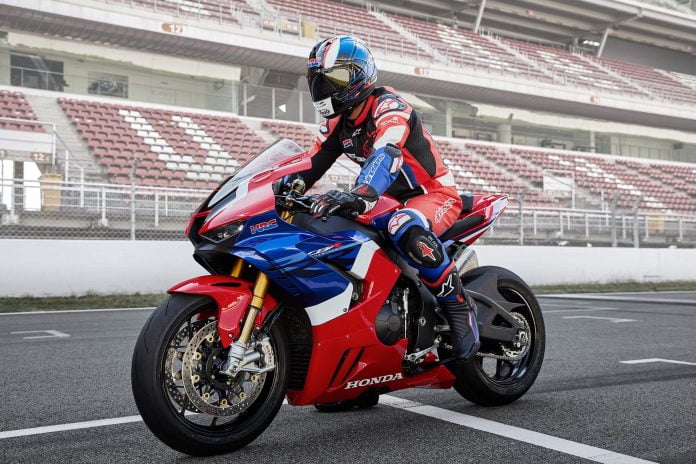 Honda Motorcycles global sales decreased 33% in the first half 2020 compared to the same period last year. The most important fall has been registered in the Indian market, with a decrease in sales of 47% while Europe was -10%. Nevertheless Australia and Germany show promising signs with +15.6% and +10.3% respectively.
Honda Motor Global 2020 Sales Performance
Honda's motorcycle business began in 1949 and in the 1964 they were already the world's largest motorcycle company.
Today, 56 years later, they have a score of over half a century of global leadership, dominating the industry having exceeded the 0.4 billion sales and producing in 33 plants located in all continents and in 22 different countries. 
In 2018, Honda established a milestone, hitting for the first time ever the record of over 20 million motorcycles sold in a single year, achieving the current all time record sales for a single brand of 20.9 million units sold.
In 2019, sales declined moderately, while the 2020 is projected at 18.5 million units, down 10.8%.
Indeed, in the first half of 2020 the global registrations have been 6.6 million, losing one third of volume from the correspondent period last year. However, Honda's loss was the lowest among the Top 5 Manufacturers in the World. All others, Hero, Yamaha, Bajaj and TVS reported deepest falls.
The biggest market for Honda is Indonesia, representing 22% of global sales and with a decrease of 34.2% compared to 2019, followed by India with 18% of global sales because of a concerning drop in sales of  47%. If we analyze only the moped sales the drop in India is even bigger at -58.9%.
The other two markets with over a million sales this first half are China and Vietnam, with -8.6% and -14.5% respectively. North America registered a fall of 13.5% and Europe only 10%.
The only two relevant markets with a considerable increase in sales are Australia with +17.3% and Germany with +7.4%. Impressive numbers given the situation.

Honda Future Plans
As sales start rising again, rivals in India and China are rising very swiftly as well, potentially threatening the brand's dominance in the future. Bajaj Auto from India has partnered with Triumph from the UK, and TVS Motor with BMW. Their objective is to bring cheap but well branded products to the global market, competing with all that Honda has been planning for years.
Honda aims to counter the current challenging economic environment by cutting production costs by 10% and development costs by 30% by 2025, and to boost the operating margin by 7% or 8%.
Another critical aspect in their plan is to invest a record 860 billion Yen on research and development this fiscal year even though they might have to cut costs even further. In the meantime their strategy is to combat the upcoming competition by remaining on top of the market by a technological and research standpoint, ensuring they will keep innovating and maintaining a tradition of exceptionally built vehicles.
One of their most interesting vehicles in the 2021 lineup is the new Super Cub C125, an update of the highest-selling motor vehicle of all time. It's ancestor -the Super Cub C100- was first introduced to the European market in 1958, and became immediately an iconic vehicle. The newest version keeps the timeless step-through design that made it so popular by enabling everyone to mount it with ease. Another key feature is its reliable 125cc fuel injected engine, the front wheel ABS and the four speed semi automatic transmission that you can shift with your left foot, no clutch to worry about.
For the thrill-seekers and superbike lovers Honda will release the All-new 2021 CBR1000RR-R Fireblade SP, a limited edition amazingly performing bike that is street legal but needs a track to be fully unleashed. It's an evolution of Honda's legendary 1000 cc sportbike, the all-new model draws heavily on MotoGP technology and will carry Honda's sport motorcycle lineup into the future while also bolstering its racing efforts in series including the FIM Superbike World Championship. Designed from the ground up with involvement from Honda Racing Corporation (HRC) and an extreme focus on outright track performance, the CBR1000RR-R Fireblade SP pairs a more compact, yet more powerful inline four-cylinder engine with an all-new frame, and aerodynamic technologies from the RC213V MotoGP race bike are used to both increase downforce and improve braking stability.
Honda Selectable Torque Control (HSTC) has been optimized and new Brembo Stylema brake calipers bite 330mm rotors through two-level ABS. The bodywork and riding position have an uncompromising focus on aerodynamic performance, and the fairing features MotoGP-derived winglets to generate even more downforce.