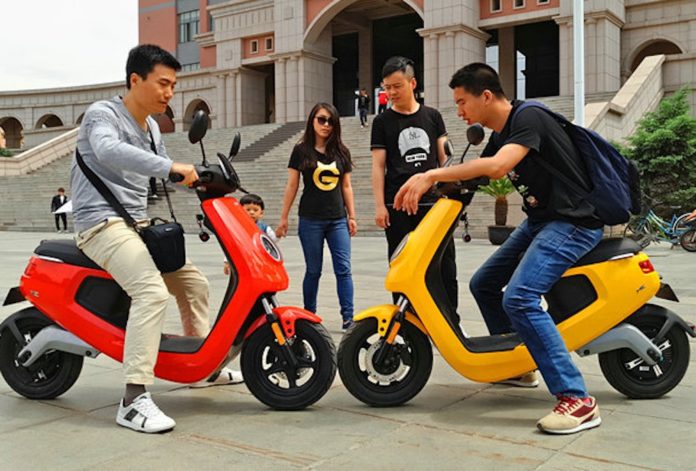 Niu Technology is the global leader in e-scooter production thanks to a robust partnership with Bosh and a unique range of innovative e-scooters distributed in over 1.100 dealerships and the first Niu Stores. Leader both in China and Europe, in the Q1 2020 was heavily penalized by Chinese market fall.
A Chinese quoted at Nasdaq
Founded in the 2014 by the former CTO of Baidu (the Chinese Google) and a former Microsoft fellow, Niu Technologies (Jiangsu Niu Electric Technology Co) is a Chinese high tech mobility corporation headquartered in Wujin, Changzhou, China and quoted at Nasdaq NY since October 2018.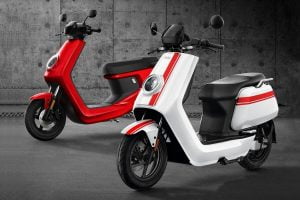 Distributed in over 1.000 dealership in China, NIU holds a significant market share of the "domestic" market while the development of international activities is following a strategic roadmap aiming to keep the opportunities of single electric vehicles market growth.
While many of the electric scooters in China are simple, low-end models designed to be affordable to the masses, Niu has differentiated itself as a premium scooter brand. The Niu scooters are outfitted with a number of advanced connected features to enhance the experience of riding and owning an electric scooter.
Such features include built-in telemetry with powerful data capabilities that allow riders to check 17 different vehicle statistics such as location, riding history, vehicle status, and power statistics in real-time through the mobile app. Riders also get access to vehicle diagnostics, anti-theft alerts, and after-sales service.
Thanks to the broadly pursued brand strategy, NIU is rapidly expanding the coverage of European market, opening several corporate stores in all the major metropolitan areas with significant results in terms of sales volume and the leadership in the continent built on the presence in all countries, while the major European competitors are still localized in few markets.
In the last quarter 2019 NIU achieved the record of over 1 million e-scooter sold worldwide since the foundation, while a new plant, with a potential capacity of 700.000 annual units, was opened in China.
In the first quarter 2020 sales declined for the first time since the company foundation, due to the Covid19 spread in China which forced the plant to shut down for few weeks and reduced the domestic demand. Q1 sales have been 40.160, down 39.4%, with Chinese sales down 43.5% and export up 5.9%.
The Q2 is still hard but the outlook for the second half is positive.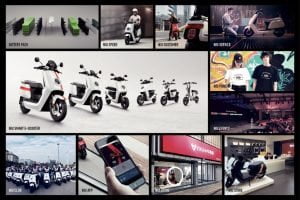 The products line up
Niu Technologies holds a streamlined product portfolio consisting of seven series, consisting of four e-scooter series, including NQi, MQi and UQi with smart functions and Gova, two urban commuter electric motorcycles series RQi and TQi, and one performance bicycle series, NIU Aero. 
NQi Series
NQi series smart e-scooters consists of the NQi and NQi-GT models. The NQi series is built to be high-performance, well balanced, and with a minimalistic aesthetic. Its design language is modern and minimalistic. The NQi series is equipped with advanced powertrain consisting of the removable lithium-ion battery pack with our proprietary battery management system, the BOSCH motor or NIU motor, and the Niu Field Oriented Control, or the FOC, system that controls the electric motors.
MQi Series
MQi series smart e-scooters consists of the MQi, MQi+ and MQi-GT models. The MQi series is a cool and fresh looking smart e-scooter designed for young urban users. The MQi series is smaller and lighter than the NQi series and carries the NIU design language that puts a modern twist on the classic e-scooter design. The MQi series is designed to be ergonomic, bolstering natural and comfortable sitting posture and intuitive dashboard and switches layout. Unlike the NQi series, the MQi series is equipped with a lighter, single central shock absorber that reduces overall weight and gives the MQi series more agility when cruising through urban traffic.
UQi Series
UQi series smart e-scooters consists of the UQi, UQiM, UQi+, UQiS and UQi-GT models. The UQi series is smaller and lighter than the NQi-Series and MQi-Series and carries the same NIU design language. The UQi series is designed to be ultra-light and ultra-compact. In addition to the advanced technologies and features found on our NQi and MQi series, such as the Cloud ECU, the UQi Series includes additional comfort and anti-theft features such as keyless ignition.
Gova Series
Gova series is our line of products targeted at the mid-level e-scooter market, representing good value for money and high quality. The design language is differentiated from main e-scooter lines. Unlike NQi, MQi, and UQi series, the Gova series does not have smart functions as standard but instead offer them as options to achieve the compelling price range.
RQi Series
RQi series was launched  in January 2020. with the RQi-GT urban performance electric motorcycle, allowing riders to reach the outer limits of their city at a top speed of 160 kilometers per hour. Drivers can customize the vehicle to suit their daily life and commuting needs by choosing distinct driving modes. The electric motor with a peak output power of 30 kW and the two removable batteries make RQi the perfect mode of transportation for navigating both urban highways and congested city streets.
TQi Series
TQi series was launched in January 2020 with the TQi-GT self-balancing electric three-wheeler and supports autonomous driving functionalities. Designed to provide urban commuters with a superior way to enjoy their city, the TQi-GT has a top speed of 80 kilometers per hour a longer driving range of more than 100 kilometers per single charge. The vehicle's enhanced performance and updated safety features provide drivers with a revolutionary way to navigate through congested city streets.
NIU Aero Series
NIU Aero series consists of professional mountain bicycles and road bicycles, as well as a new model of power assisted electric bicycle, the NIU Aero EUB-01. The mountain and road bicycles share similar design concepts with smart e-scooters, such as integration of aerodynamics and ergonomics and smart connectivity, and they were launched as part of NIU lifestyle product portfolio classified in the lifestyle accessories category.