Israel Motorcycles Market in the 2019 declined 7.1% following the previous six years growth. The market is dominated by Taiwanese SYM and Kymco which have a combined market share near 40%. Kawasaki is the best premium brand with an outstanding level of sales in the year, up 52%.
Economic Environment
Israeli economic growth was robust in the third quarter on strong private consumption, while fixed investment and exports contracted sharply. However, volatile vehicle purchases distorted the reading—as has been the case so far this year—while a rise in inventories also flattered the headline GDP figure, and underlying momentum was likely more modest. The economy had a largely soft start to the fourth quarter: In October, both consumer and business sentiment flagged, while merchandise exports plunged.
Economic growth should be sprightly next year, underpinned by loose monetary policy, buoyant population growth and stronger exports as the Leviathan gas field comes online. However, elevated global trade tensions, volatile regional geopolitics, protracted political paralysis and a large fiscal shortfall pose downside risks.
Motorcycles 

Market Trend
Israel represents the largest motorcycles industry in the Levant and Middle East (not including North Africa) while in absolute is small with less than 20.000 annual sales and ranking over the 50th place in the Global ranking.
Following six years of growing, in the 2018 the market established the all time record with 19.093 sales.
However, in the 2019, the growing path has been broken and sales moderately declined ending the year at 17.725 (-7.2%). 
The market is dominated by three brands, SYM, Yamaha and Kymco which hold together 58.8% of market share.
The market leader, since a decade – a part the 2015 – is the Taiwanese SYM which sold 4.492 units (+10.7%).
In second place the other Taiwanese Kymco. with 2.901 (-2.9%) and in third  Yamaha with 2.825 units (-6.1%).  In fourth place there was Honda with 1.662 sales (+11.1%) ahead of Kawasaki, shining with sales  at 1.122, up 52%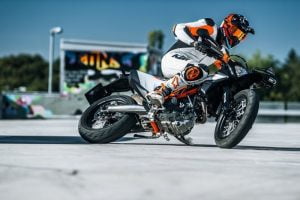 .